Use these easy ways and you will improve your kitchen. You will never spend a lot of time to clean, organize, search and others.
1. DIY Soup Cans Storage
It is unbelievable that you can even use the empty soda boxes just to store soup cans. Check out the tutorial here.
2. DIY Snack Holders From Shoe Holders
This is the biggest reason why you should not throw away everything out of your house. You can even use the shoe holders to hang some snacks.  This is easy and really helpful!
3. DIY Chip Clips
Keep your snacks crispy and tasty without ants. What you should do is to use the ends of the plastic hangers. Cut it off to make these DIY chip clips. If you always have the hollow and tragic crunch of your stale chip for almost every day, do this.
4. DIY Cleaning Supplies Under The Sink
It is good to use the empty space under your sink by hanging cleaning supplies on the tension rod. This is what you need to keep everything is well organized.
Check out the tutorial here.
5. DIY Vertical Cabinet Storage With Tension Rods
Tired of a cabinet storage with mess look? Why do not add tension rods to make a neat cabinet storage so you store everything vertically?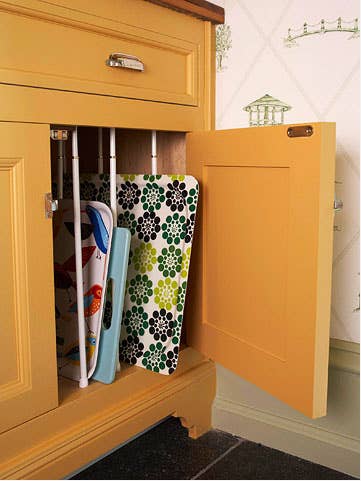 6. DIY Utensil Storage From a Rod
A rod is useful for almost everything when it comes to kitchen storage hacks. You can even use a rod to store your kitchen utensils. Here is how.
7. DIY Wineglass Holder
Use an old rake as a wine glass holder
8. DIY Plastic Bags Sealer
Seal plastic bags with the tops of water bottles.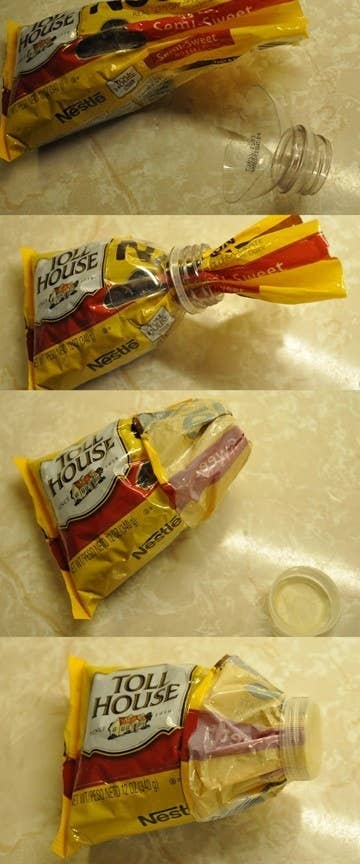 9. DIY Lazy Susan For The Fridge
A Lazy Susan for the fridge makes everything more accessible.
10. DIY Kitchen Utensils Storage
Do you have an old shutter door? Use it to arrange your kitchen utensils and cloths on it. What you need are 3M adhesive hooks. Here is the tutorial.